Greenberg's Smart Bathroom Ideas To Craft The Bath Of Your Dreams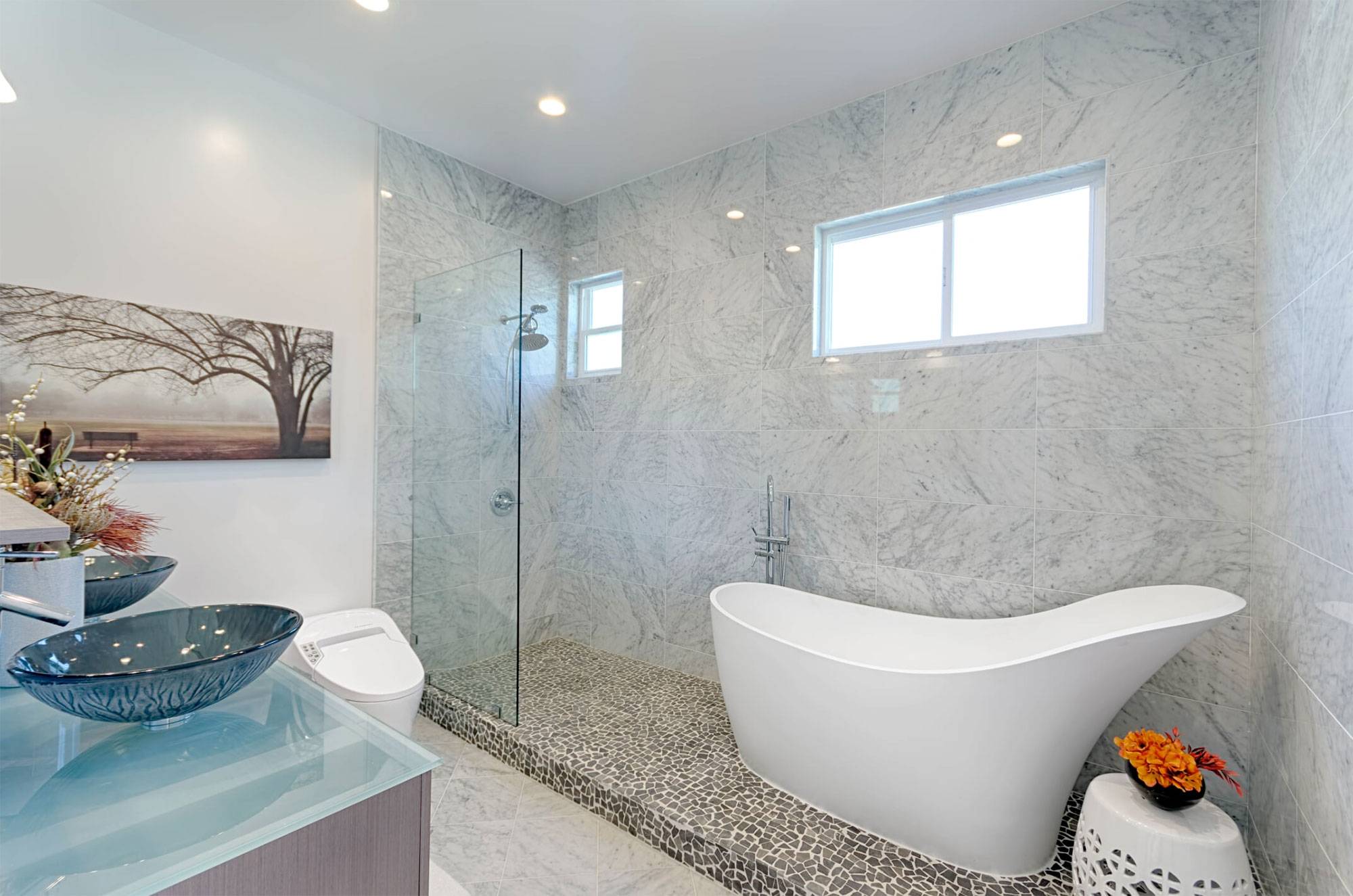 Are you looking for smart bathroom ideas to have a great bath space?
Well, a good layout is one of the most essential aspects to design a functional and modern bathroom. A smart bathroom is that which makes the most of its space and deliver the homeowner a larger feel in a smaller space. We have some of the best and most creative bathroom layout ideas which will help you plan your dream bath space and construct a comfy and trendy bathroom that meets your modern lifestyle and needs simultaneously.
Ready to craft a bathroom that smartly utilizes every inch of your space? Why let the limited space dimension stop you from bathing luxuriously when you can have great functional and smart bathrooms with good bathroom layouts?
When it makes sense to delineate floor plans for the entire house, why not make a full-proof layout for the bathroom, too?
While some people often skip bathroom layout designs in the lay-it-out-on-paper stage itself, most of the sensible homeowners try to include the plan of bathroom layouts in the initial stage so that a complete smart home can be made. While for most people, bathroom designing is insignificant and easy, it contradicts the fact.
For example, placing a bathtub too on the brink of the toilet or installing a sink cabinet without sufficient buffering can cause disaster for your tiny bathroom areas.
So for smart yet functional bathrooms, careful planning, smart designing, and proper implementation of fixtures are crucial. Outsized or tiny, every bathroom needs a good layout plan and smart yet strategic styling tips to shine and fit into your entire smart home planning.
Every bathroom needs good lighting, great flooring, functional storage spaces, and modern fixtures. But when it comes to bringing everything into line and creating a better and smarter bath space; most people fall short with ideas. Thankfully we have some great layout plans for creating a picture-perfect bathroom. From functional and approachable ideas to luxurious and trendy styles, let's surf through the smartest ideas and designs for your dream bathroom layout.
Smart Bathroom Layout Ideas For Modern Homes
Complete Privacy, Please!
Whether it's a generously sized bath space or a tiny area; we all need complete privacy for our bathrooms. A separate compartment for the toilet, covered by see-through privacy panels, made of tempered glass instead of solid walls will give your bath space a larger feel. Plus, the see-through and sandblasted designs of the panels will smartly obscure direct views without blocking the light.
Maintaining Bathing Beauty!
A separate bathtub is a dream bathroom fixture for everyone. A bump-out tub is a quite popular option, but it can occupy most of your space. So for better space management, you can opt for a central tub niche, edged by an in-built storage space or with additional compartments. It will cover up your wish for a bathtub while making your spaces more functional with storage solutions.
Exploring Reasonableness Of Plumbing!
A smart bathroom layout mostly depends on the limitations of your space dimension and your approaches towards the plumbing works. So, it is better to consider smart plumbing systems like Smart showers, smart toilets, smart waterlines, and smart sinks for smartening your bath space. You can also go for luxurious plumbing add-ons to improve your bathroom's efficiency, lavishness, and convenience.
Wet Walls Consideration!
How many wet walls do you need in your bathroom? While Three-wall bathroom layouts provide the best design flexibility with a bit higher plumbing cost, A one-wall or two-wall bath layout can somehow limit your design choices. So, make space-smart bathroom layouts for wet walls on the basis of your requirements and budget, while envisioning your bath space.
Expanding Mirrors For Better Lighting!
If you have a smaller bath space and concentrated availability of natural lights inside the space; what you can do is having a long mirror stretched across the wall. Instead of limiting the mirror just to the vanity, stretching it all over the walls will help you multiplying the lighting system and making every inch help, in less-than-ideal bath space conditions.
Smart Storage Options For Smart Bathrooms!
Smart finishes and ingenious storage options can make even the smallest bath spaces more stylish, more practical, and more functional. Whether you pick a glossy and sleek streamlined bathroom look or opt for the traditional detailing, focusing on smart storage solutions is always the best way to pack a punch. It makes your bathroom more modish, more useful, and space-efficient.
Utilizing Paint Effects For Height Illusion!
If your bath space is small and you want to give it an illusion of good height, then paint can be your true rescuer. You can Paint your bathroom walls halfway up for creating a delusion of height and give your small bathroom a larger appearance than it is. Darker paint shades will be good choices for lower wall parts.
Invest In Multi-Functional Furniture
While designing a bathroom, always opt for furniture and fixtures that are freestanding and multi-functional. The freestanding seating and storage units will allow you to change the entire setting of the bathroom within a blink of an eye. Plus, with multi-functional designs, they can be used for all different purposes.
Greenberg Construction – Designing Dream Bathrooms With Smart Ideas
Are you planning for a complete bathroom remodeling?
Do you want to develop a brand new, smart bath space for your home?
We, the team of Greenberg Construction are happy to help you with crafting and developing the best and most functional bath spaces in Palo Alto. Right from building from scratches to modern fixture installation, wet walls and wet room designing, shower room installation, bathtub fixing, tiling, smart plumbing, floor renovation, and full bathroom refurbishment; we are here with end-to-end bath space development solutions for you.
Send us your queries at [email protected] and we will contact you for further discussions on your project. We also offer a free quote without obligation for each project!